Over the past few years, we have had to adapt to a new form of events – hybrid events.
The event industry is one that has had to especially find its feet in the new reality. Learning the benefits of hybrid events along the way. Live streaming at these events has become very popular and is being used in diverse industries. In an interview with NetworkTables, a Dutch event tech company, you will learn how to use modern event solutions and why you should do events online!
We spoke to Tyler Wood, Marketing & Brand Manager at NetworkTables about what he has learned about Hybrid events…
If someone has never experienced a hybrid event before, what can you say about it?
A hybrid event is a fancy way of saying an event that is taking place both online and offline.
For example, in-person events happen at a venue – a physical location where people meet and gather to connect with each other. On the other hand, virtual events take place entirely on a screen, much easier for anyone to attend from anywhere. A lot of these are webinars and knowledge sessions.
It's definitely become more prevalent in the last few years. For some time, many events were only virtual during the pandemic – it was the only way. Now a middle ground has been struck. People definitely still desire to go to physical events, if not just to see people again, but it is undeniable that virtual has its benefits too. Hybrid events are a modern type of event that includes components of both. Practically, it usually involves splitting a multi-day event into in-person days and virtual days, so everyone has a chance to attend.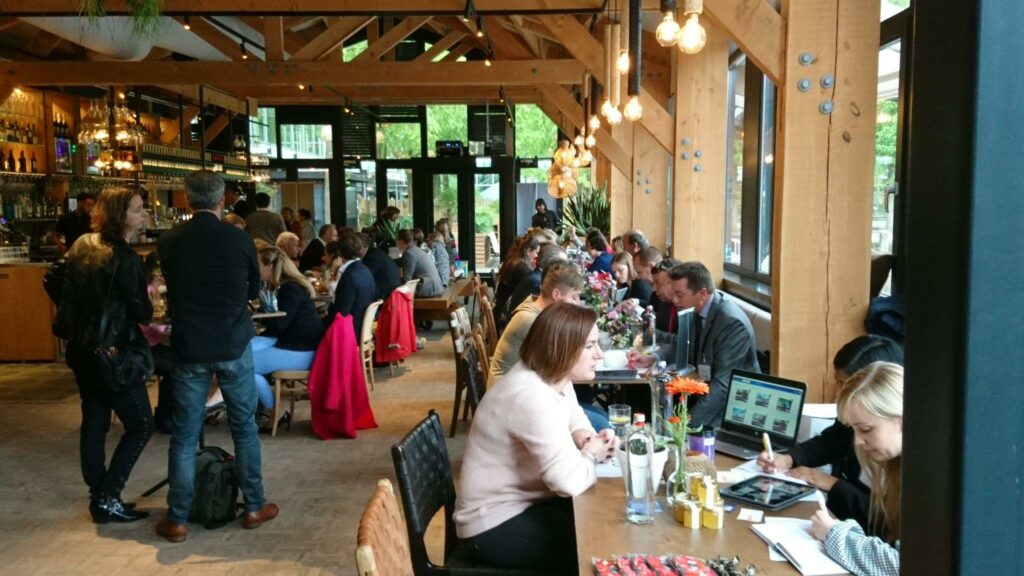 Why it's worth doing hybrid events for an event or brand?
There are benefits to in-person events and there are benefits to virtual. Of course, it's possible to go wrong, but what we see is that many virtual event components are relatively cheap to reap the benefits. The cost of setting up an extra camera and screen compared to adding another event venue really provides little excuse to not take an event hybrid.
It provides attendees with the opportunity to choose – wherever they are. More choice leads to higher engagement. Previous clients who were never able to attend from overseas now have an option to at least partly become involved with the event. That's a guest that never would have attended otherwise. Due to this, it also seems to have become expected in many cases. Adapt or die, as they say. Many attendees count on online attendee lists or pre-seating plans to make connections ahead of the event.
Of course, creating a hybrid event also opens the reach up massively. As said before, now many more people can see your event. Plus, they can be selective with what sessions they want to watch. People can come for just one keynote they're really interested in, rather than investing an entire day.
More touchpoint means more potential connections, and we're all for networking at events. That's where we see the true ROI, meaningful conversations and new potential deals.
When did hybrid events become more popular?
We faced at least two years of virtual events, it's something we were prepared for, but we faced a lot of customers that rapidly wanted to go from in-person events to something that was watched online.
Now, event organizers and attendees alike have seen the benefits of certain virtual components, and they aren't going away. Even if people still have the desire to get back to see people again. After the pandemic, hybrid events are more time-efficient for everyone.
What are your tips for preparing for your first hybrid event?
It often depends on what landscape you are coming from. Do you have experience with in-person events that you want to take online, or vice versa? Perhaps you have never done any type of event before, in which case it's basically like running two events.
Think of your in-person attendees first, they are typically more invested if they are travelling, and therefore your virtual experiences will fit around them.
If it's your first time running an event, always, always make sure to test everything first. A full rehearsal as if it was about to start for real. To make sure all the systems and tech are working properly together, not just on their own.
Is it expensive to organize a hybrid event?
When considering the cost of a hybrid event, it's best to think of it as an in-person event first, with the added extras of a virtual event. You will still have all the fixed costs of the venue, catering, staff, and anything else you might have prepared.
In comparison, the virtual added components are relatively cheap. For example, screens, cameras, and an event streaming solution. However, always be sure you have the staff, either internal or external, that are ready to run all the tools.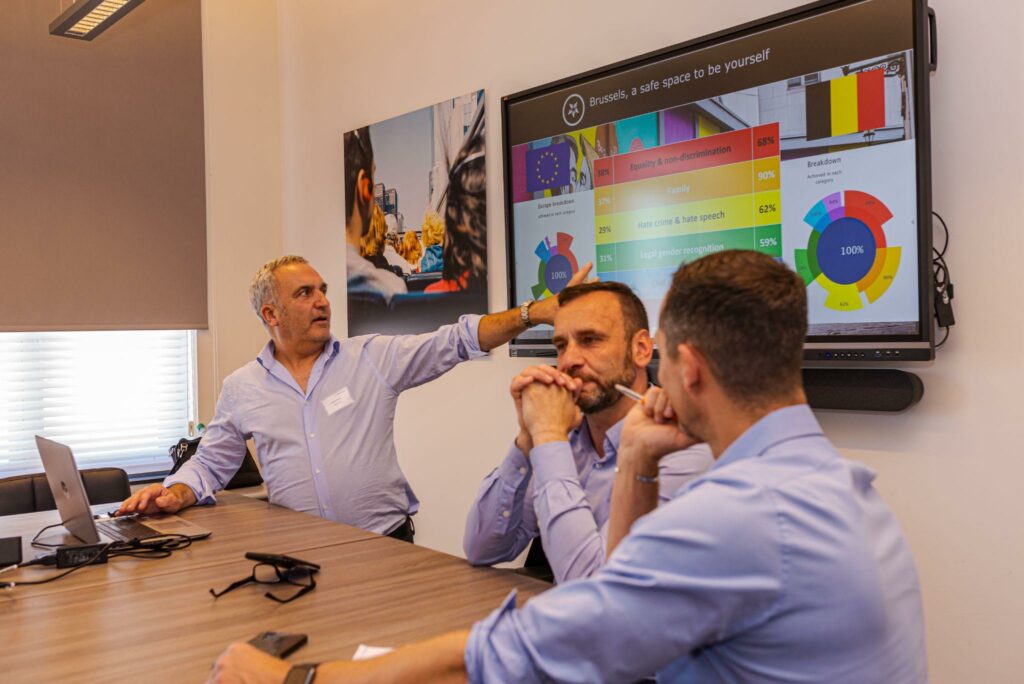 What is something all hybrid events should do?
Something that we suggest before going forward with any hybrid event is to analyse who will be coming. Younger people tend to be more tech-savvy and depending on your audience you know where to concentrate your hybrid efforts. Some people, depending on age or industry are more open to a virtual event.
Regardless, providing a virtual stream or area means an exponentially greater ROI for your brand. We always suggest live-streaming over on-demand recordings. Providing recordings are a good "nice to have" and while a lot of people ask for it, we've seen the numbers and people don't tend to watch them long after the event. On the other hand, live streaming seems to bring a lot more value to an event. It brings the virtual experience closer to the in-person feeling and helps to get people into that atmosphere.
At the end of the day, hybrid events are a great way to make potential connections and increase value. Taking the advantages of both in-person and virtual is a win-win for everyone.
Why do a hybrid event with NetworkTables?
NetworkTables is an all-in-one events platform that allows you to host video webinars, streams, roundtables and 1-on-1 meetings for online events, Meanwhile, it allows for agendas, schedules and more at in-person events within the same platform – ideal for keeping all the tools together for hybrid events. The NetworkTables platform also avoids the annoying step of having to download another app for the event, we see many people drop off at this stage, so we like to keep everything down to one link to get in beforehand.
The goal is to reduce the number of tools people need for hybrid events down to just one – making things as simple to manage as possible.
About NetworkTables
NetworkTables (2015) is an event platform for organisers to help their attendees meet the right people at events – created by event managers. Providing insights into who is attending an event, where, and the tools to book an appointment without the headache of creating another account or profile. As well as the ability to create your own roundtable, keynote, and workshop events all year long.
Also interesting: "Some practical advice on how to prepare for your first live video"